The Beginning
After operating buses in Victoria, the Webster family moved to Queensland in 1978 and purchased Kangaroo Line, a small bus service operating six buses out of a private Caboolture residence. This country bus line provided daily school bus services transporting 150 students across the region.
It soon became apparent that an alternative location was required for the depot as the dirt road accessing the current property often flooded. In 1979 the company relocated its operation to a depot on Morayfield Road.
In 1980, Narangba Bus Service, a small three bus, family-run operation was purchased by the Webster family and became part of Kangaroo Line.
With this purchase, the trading name was changed to Kangaroo Bus Line and incorporated a complete branding restructure; and school bus services commenced in the small towns of Narangba and Burpengary.
To keep up with the growth of the region, public transport services also expanded and a route between Caboolture and the Redcliffe Peninsula was established. Steady growth occurred as the area developed and more second hand buses were purchased throughout these early years.
In 1983 Kangaroo Bus Lines purchased its first brand new bus, a Denning Denflex (listed above). This vehicle was purchased to improve the public transport services between Caboolture to Redcliffe. As the region continued to grow steadily over the next few years, more Denning Denflex's where added to the fleet. With the addition of these new vehicles the Tour and Charter division was established and commenced providing buses for hire.
As a result of continued expansion in the provision of school services, as well as growth in our charter division, it became apparent that there was a need for high seating capacity buses in the region. 
The trading name Kangaroo Coaches was created to differentiate our buses between urban buses and touring coach.
Our interstate tours commenced in 1985 and included educational tours to Canberra and the snow fields for primary and high school students.
From 1987 to 1991 the region continued to develop and new buses and coaches where purchased at a rate of one every year to accommodate the growth in the charter division and the increase in passenger services within the network. During this period, another branding restructure occurred inspired by the 1988 World Expo in Brisbane and Kangaroo Bus Lines was born. 
Following government trial over the next few years, reforms took place within Kangaroo Bus Lines' contracted area. Many of these reforms saw improvements in public transport with the introduction of more services on weekdays and the commencement of new weekend services. During these times Kangaroo Bus Lines purchased five mini buses to accommodate the increase in public transport services.
As our client base grew the company starting getting requests for day tours from local passengers who had no way of exploring South East QLD.
In 1988 the first three articulated buses where purchased from Volvo Bus Australia and added to the fleet. These "banana buses" or "Artics" became an instant hit with school bus travel and school based charters. This was due to the fact they could transport large volumes of passengers, minimising the need for multiple buses.
Our day tour division was born in 1998. With the commencement of one day tour a month, they steadily become a regular addition to general operations.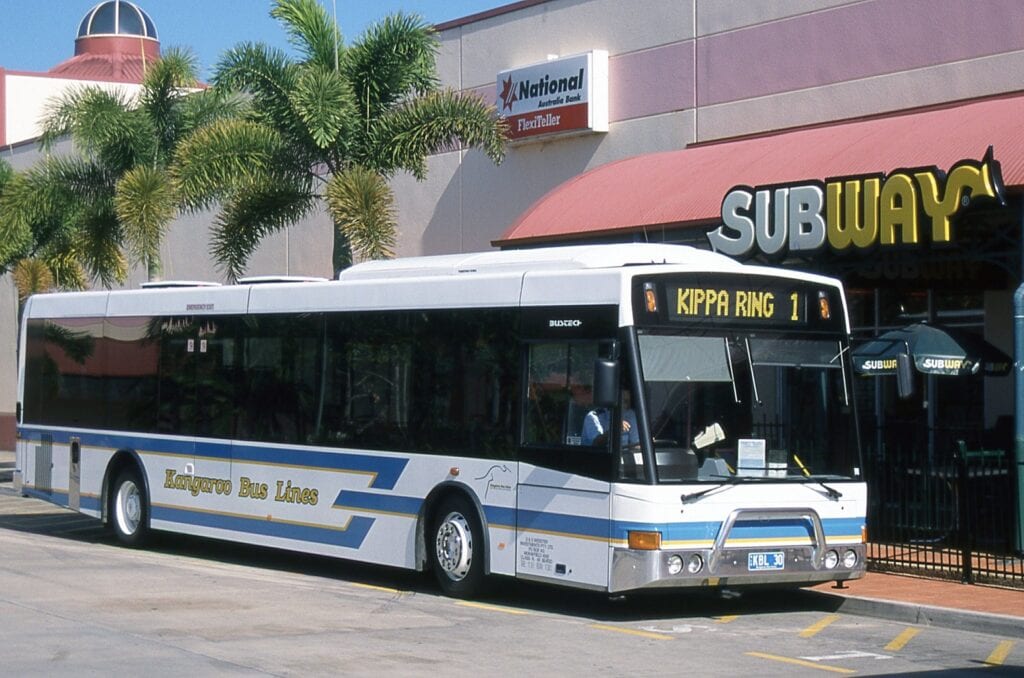 In 1999, the family purchased three new Mercedes Benz low floor buses to support our growing public transport network. These new buses were the first fully accessible low floor buses to operate on public transport services in the region, which assisted our customers with easy, stepless boarding including provisions for wheel chair customers. The introduction of these three new buses was part of a new public transport network improvement that assisted with the introduction of increased services across our region, including weekend services.
Business steadily expanded in 2000 with the development of a new office building situated onsite at the depot in Morayfield. This new office building featured a designated driver's area, office space for up to 8 administration and management staff as well as a reception area to cater for our growing day tour patronage. The fleet consisted of 28 buses at this time and the new building had facilities to cater for up to 35 buses in future growth.
Tour and Charter Services also came of age in 2000 following the purchase of our first brand new purpose built luxury touring coach. This benchmarked Kangaroo Bus Lines as a provider of quality bus and coach services throughout South East Queensland and Australia.
The Birdsville Races is an annual event that we have assisted in since the early 2000s and look forward to every year. In 2012, we became the primary transport provider for the Birdsville Races, which included shuttle services between the outback township of Birdsville and the local racetrack, which also raises valuable funds in support of the often life-saving Royal Flying Doctors Service.
In 2004, Translink Transit Authority was established as part of the Queensland Government's public transport reforms to offer affordable and reliable public transport for the greater community. Kangaroo Bus Lines became part of the Translink network linking buses, trains and ferry services within the greater Brisbane region. Our public transport services between Caboolture and Redcliffe, as well as our school services, formed part of Translink's operations.
After 28 years of successful operation from the Morayfield depot, the Caboolture Shire Council re-zoned the depot from rural residential to Residential A in 2006. This meant that Kangaroo Bus Lines could no longer operate or park buses on this property and were given direction to find a suitable alternate location. The Webster family commenced searching for a suitable property to build a new facility to accommodate their growing business and fleet.
Over the next four years several properties were considered but for various reasons they were not suitable. During this time the fleet continued to grow steadily and it soon became apparent that a place needed to be found quickly as the business was exceeding the capacity of the existing depot in both fleet size and staff.
In May 2010 the Webster family signed a contract with QM Properties for a block of land in the new industrial area of Burpengary, Motorway Park.
In 2010, Birdsville encountered torrential rain and was perched in a quagmire of mud stranding more than 3000 visitors and halted the iconic Birdsville races for only the third time in 128 years. The drenching came soon after waters from Queensland emptied into Cooper Creek, 265 km south of Birdsville, in June for the first time in two decades.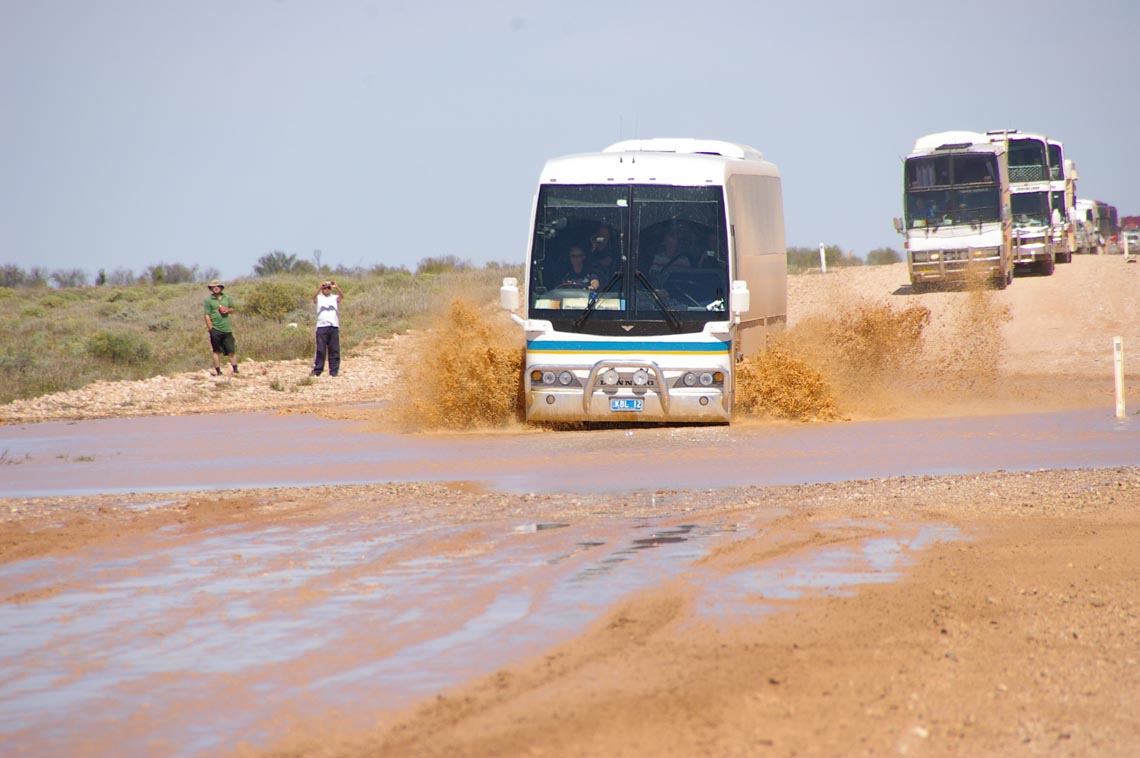 Construction on the Headquarters facility commenced in February 2011. Over the next twelve months the development of the new facility, located just off the Bruce Highway at Burpengary, continued steadily despite a few setbacks due to weather.
The opening of the all purpose built Burpengary bus depot had several government members conduct site visits showing support to this local community development. 
On 22nd April 2012 Kangaroo Bus Lines moved its whole business operation from the previous Morayfield depot to the new state-of-the-art facility on the corner of Pitt Road and Motorway Drive, Burpengary. 
In order to best service the Sunshine Coast, Kangaroo Bus Lines opened a Sunshine Coast depot centrally located near Maroochydore. The depot opened its doors in January 2016 with an official grand opening celebration on 9 February 2016.  The grand opening was a major success, with clients, press and members of local community in attendance.
The initiative to expand services into the Sunshine Coast Region incorporated the procurement of several brand new Irizar i6's to provide professional and reliable bus charter services to local schools, corporate events, tourism groups as well as major Sunshine Coast events and festivals.
It was at this point of time the company introduced a sharp branding refresh as shown below.
We became a reputable and major provider of first-class ground transport solutions within the cruise ship industry. We have been providing our services to over 50 large cruise ships annually since 2012 with each ship having the capacity to bring 2,000 – 5,000 tourists to the region. Our offerings include various specialty cruising transportation services including port to city shuttle services, overland tours with commentary, debark tours as well as airport & hotel executive transfers.
Kangaroo Bus Lines & TransLink started planning the trial of a new Queensland-designed school bus. Built by Denning Manufacturing in Acacia Ridge, this low-floor, high-capacity bus is wheelchair accessible & can safely carry 85 primary school students.
To date, Kangaroo Bus Lines has seen rapid growth and new developments in all aspects of our business and the continued support of the community, the Moreton Bay Regional Council and the Sunshine Coast Council ensures that they are able to provide the high standard of service their passengers are accustomed too.